Beacon of Hope
By Sheena Shah

A featured impact story of Rose, from the Rongo Organic Farmer's Project. Rose inherited the land and coffee cultivation from her late husband who grew the coffee in 1962. Rose wanted to invest the money she got from coffee sales on something that will give her constant income from last season's harvest, that PRI Kenya helped generate avenues for the organic Rongo Coffee. Rose gets 8 litres of cow milk daily daily helping her sustain her and her family by providing to the market and her family's consumption. Rose really needed an extra income source to use pay for her grand children's school fees and not to mention that the organic milk has also aided in their diet.
She bought one cow who was expecting resulting in two cows now. She has boosted her coffee yield exponentially, using manure from the cow that has enabled her to prepare compost for her coffee plantation and other food crops such as maize and beans. Seeing the results just by using compost in regenerating her soils has reaped in yield and believes that organic and non conventional inputs are the way to go!
Two years down the line since the inception of SVR, after the project implementation with practical workshops on permaculture and vigorous extension work, from our recent field evaluation in April, 2017 the production has just increased to 2.4 Kg of cherries per tree from a mere average of 0.5 kilos before! This is attributed to soil building especially by use of compost and improved farming practices such as mulching, cover cropping, intercropping with nitrogen fixers i.e. caliandra, lucern, pigeon peas. Organic farmers work to develop a deep, rich topsoil by creating mulch out of the coffee cherry pulp. Adding other nitrogen-rich elements to it, they turn it for a full year to create a compost to spread around the base of the trees. This allows the plants to develop a longer root structure, improving moisture content, reducing soil erosion, and resulting in a clean taste.
The enterprise development is slowly growing and farmers are receiving regular training on composting, picking the right cherries and expanding their volumes for a consistent flow for the demanding market!
The coffee farms were affected during this period of the drought, which proved the lack of moisture in the coffee bean and a lot of low grade coffee came out of this harvest. Now that the rains have approached, the farmers are now preparing for the next season and cultivating more biodiversity. They are beginning to cultivate their model permaculture demo farms and expanding to other farmers in the region; 
to diversify farms and farming landscapes, replace chemical inputs, increase biodiversity and stimulate interactions between different species, as part of holistic strategies to build long-term fertility, healthy agro-ecosystems and secure livelihoods. As a contribution to such imperative, we r
eleased a fantastic Easter Blend Rongo Coffee with local roasters we have partnered with, which was yet another best seller on the shelves and now have a Rongo blend available for anyone at anytime. This is a clear incentive for farmers to build on capacity to eventually provide more coffee around the region but only focusing on other multi-functional and broad spectrum crops. This will contribute toward long term food security and markets overtime which is integrated within the coffee. Farmers are appreciating the results using permauclture principles and it is evident when you see their coffee trees in comparison to the mono and conventional systems.
Sheena visiting the farmers during picking season in March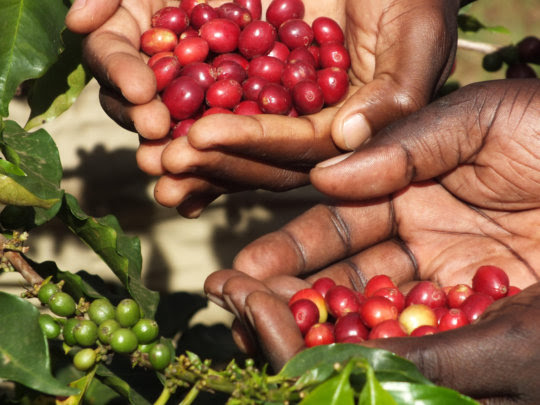 The cherries are ripe and vibrant when grown in a shade grown system
Mary proudly standing with her cow